Teacher Bios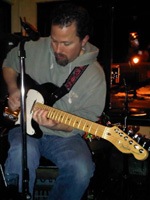 Chris Brown: Owner
Guitar, Beginner Ukulele

Chris opens Center Stage Music Lessons in Scotch Plains, NJ with 40 years guitar playing and performing experience, and 12 years teaching guitar full-time. Chris has taught hundreds of people to play guitar, in both individual and group lessons. His ultimate goal for students is to bring them from individual lessons to playing with other students to performing in venues as a professional. He has taught several seminars at Westfield Adult School in Westfield, NJ, run week-long summer music performance camps, and done group lessons at the Boys and Girls Club. He teaches everything from basic guitar skills like playing chords, strumming and playing simple songs, to advancement into music theory, including scales, intervals, triads, chord scales, arpeggios, advanced chords, and especially soloing. With more than 1,000 live performances under his belt, his goal is always the practical real world application of these skills as a performer. He offers technical knowledge of equipment and band dynamics. He is a family man with 2 children, and a founding member of the popular local band Brother John Brown.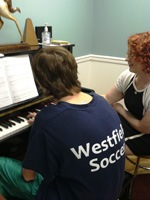 Sarah Blood
Piano, Voice

Sarah's fascination with music began at age 7. After listening to her father play piano, she began taking lessons. Currently pursuing her degree in Music, with a concentration in voice and piano, Sarah teaches both on and off the campus of Kean University. She believes that starting with classical study is a great foundation, which allows a pianist to branch out into other genres and styles of playing. She currently studies with internationally acclaimed pianist and member of duo Stephanie and Saar, Saar Ahuvia. She performs solo recitals and chamber music performances at Kean University, and tours as a vocal soloist with The kean University Concert Choir and Chorale.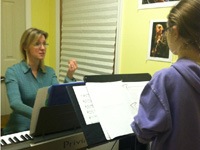 Jennifer Gong
Voice, Beginner Piano

Jennifer holds a B.A. in Voice from Kean University in New Jersey. She also holds a B.A. in French from Hope College in Michigan. She also has additional music studies at Westminster Choir College in Princeton, NJ, the highly-esteemed Berklee College of Music in Boston, Mass.. She is well versed in both contemporary and classical music. She has been a vocal soloist and worship leader at Liberty Corner Presbyterian Church in Liberty Corner, NJ, for over 15 years. She has also held lead roles in several community musicals such as "Godspell" (Peggy), "Joseph and the Amazing Technicolor Dreamcoat" (Narrator), and "Seussical" (Mazie). She is a mother of 2 and Center Stage Music Lessons is thrilled to have Jennifer on staff.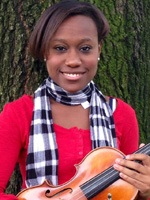 Kriscendra Jones
Violin, Piano, Cello

Kriscendra Jones is currently a Music Education Major at Kean University's Conservatory of Music with an emphasis in violin and minor in piano. She started playing the violin when she was ten and has been playing in orchestras and ensembles ever since. She attended the Rutger's Summer Band and Orchestra Camp July of 2011 and 2012 as well as the Sphinx String Academy at Oberlin Conservatory in Ohio in July of 2012. She played the violin in the pit orchestra for "Seussical the Musical!" for the Talent Time players in Bloomielfd NJ, and for C.A.S.T in Kenilworth NJ as well as playing "Anything Goes!". During this past winter, she played as a violinist for Newark's Young Writers Festival at NJPAC. Kriscendra was a member of the Greater Newark Youth Orchestra affiliated with the New Jersey Symphony Orchestra's youth division, and played with NJSO in a side-by-side concert twice. She also won the Young Solo Artist Competition for the Society of Music and Arts and played as a guest soloist in "Danse Macabre" by Saint Saens with the Society of Music and Arts Orchestra in Maplewood NJ. After playing in many chamber ensembles and concerts, Kriscendra and two other string musicians at Kean have formed TAB sting trio, which is a string trio that plays at major events such as weddings, galas and many more. She loves teaching and giving anyone that has a passion for music that extra push to accomplish anything. "Music is a universal language, it shouldn't matter at what stage of your life you decide to let it be part of your life, as long as you have a drive and passion never let anything stand in your way."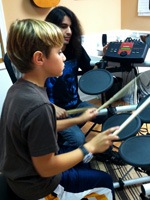 Steve Megna
Drums

Steve is a drummer and musician in 3 bands. He's been playing since he was 14 and has been training to become a drum teacher since he was 18. Steve can play all styles of music such as rock, funk, Latin, jazz, punk, R&B, hip-hop, rap, and metal. His education includes reading and writing music, technique, ear training, theory, and playing to a metronome. Steve released an album in September of 2010 and is currently working on another album in another band.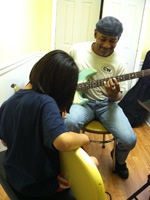 Gary Richardson
Bass

Center Stage Music Lessons bass guitar instructor Gary Richardson with student Jonathan. Gary has played bass for over 30 years. A fixture in the Union County music scene, he as played over 500 shows in NYC, NJ and the tri-state area. A music teacher for over 10 years, he focuses on the fundamentals: basic bass theory, scales, arpeggios, chord tones, chord progressions, cycle of 4th's, and playing to one's own strengths. He has performed in both original music and cover bands, and is currently playing in bands Traveling in Stereo and Kenobe. Styles include rhythm and blues, funk, jazz, pop and rock.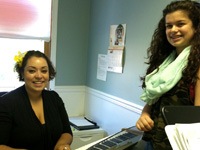 Mariana Santiago
Voice

Mariana Santiago is specifically trained in classical and opera vocal repertoire. She is currently pursuing her Bachelor's in Music Performance from Kean University, under the guidance of Katherine Harris. Mariana has been singing since elementary school. Towards the end of her high school career something stirred in her and her passion for music was ignited. At Kean University she has been in the Concert Choir, performing many pieces, such as Mozart's Requiem, both in 2010 and 2012. She participates in Kean's Opera Workshop, where she played such roles as:
La Zia Principessa, from Suor Angelica, by Puccini; Augusta Tabor, from The Ballad of Baby Doe, by Moore; Dorabella, from Cosi fan Tutti, by Mozart; and several selections from the opera Carmen, by Bizet.

Her accomplishments include:
Study with The Italian Operatic Experience, in Monticatini Terme, Italy;
NATS Competition - 2nd Place;
National Classical Singer Competition - quarter final.
Mariana has been under the direction of conductors, directors and coaches such as:
Mark Terenzi, Susan Cadwell Nelson, Beth Greenberg, Myra Huang, Luisella Chiarini, Ainhoa Urkijo, Richard Getke, Gary Norden, James Musto, and Olfary Guitierrez.